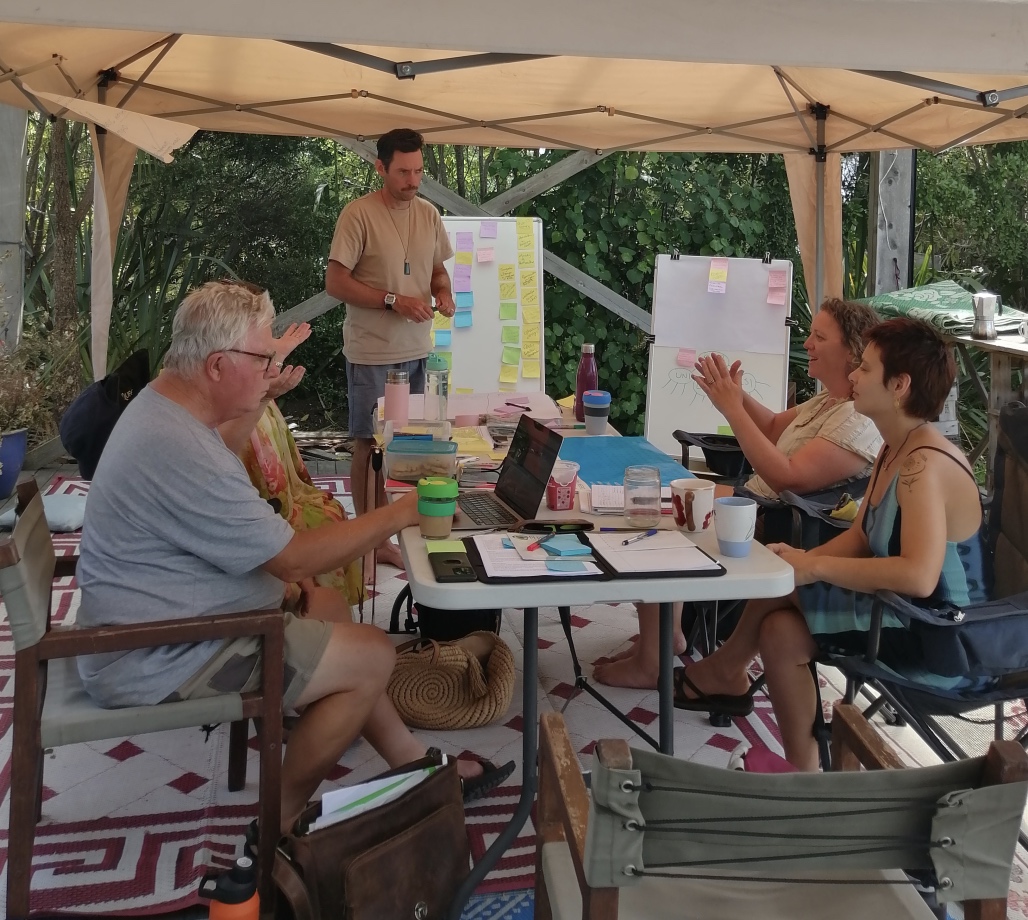 Fiona Moorhouse – Chairperson
Fiona grew up in Taranaki but in her late teens the wider world was calling so she headed off to live in Patagonia Chile for twelve months. This was followed by a brief trip home before heading back to Chile for another four months. On return from Chile Fiona then set off to Queensland Australia to explore an area closer to home but vastly different from life in the Andes.
Fiona's permaculture journey started whilst living in Australia where she completed a PDC under Geoff Lawnton and short courses with Morag Gamble and Robin Clayfield. After nearly 20 years in Australia Fiona returned to Aotearoa/New Zealand in 2017 with her husband and three-month-old son. Over the next two years Fiona completed a PDC with Phil and Sharon Stevens in the Manawatu, to not only gain an understanding of the New Zealand context, but to build  connections to the Aotearoa/New Zealand Permaculture community. During this time Fiona also managed the building of their passive house and created the design for their six-acre farm in the Rangitikei. The farm now provides 100% of their meat, eggs, milk, most of their vegetables, bonus goodies of cheese and soap, and the volume of fruit increases year on year.
With a love of cooking, homesteading, permaculture and people, Fiona can often be found working with her husband with her son by her side, tending to her animals, hanging out in the garden, preserving the harvest, or sharing her knowledge of these skills with others.
As a self-confessed busy person, in addition to her paid work managing international students, and university studies where she is currently working towards her master's in psychology, Fiona also volunteers her time and has managed the Marton Community Garden for the past five years. Since stepping into this role Fiona has set up a charitable trust for the garden, gained support from local and national businesses and facilitated a range of events, workshops and community participation sessions alongside the regular working bees and crop swaps she manages. Fiona is aiming to launch a PDC at the garden later this year to spread the permaculture message in her community and region.
Fiona was heavily involved in coordinating the National Permaculture Hui in Whanganui that sadly due to Covid could not proceed. However, people are what Fiona is passionate about, so creating value for the membership along with opportunities for connection and knowledge sharing are high on her priorities for PiNZ.
As Chairperson of PiNZ Fiona wants to know what you think, what you want, how PiNZ can support you, and what you can contribute to making it happen. So, if you have feedback on both matters big and small then please get in touch with Fiona at info@permaculture.org.nz
Merve Yeşilkır
Merve has a background in science, having studied Molecular Biology and Genetics, she has deep understanding of nature's building blocks and intricate systems. She was raised in an ecovillage settings, interacting with nature on a daily basis and was passed down ancestral wisdom by her mom and many other women on how to live off the land.
After spending years in research projects where she felt there was no real life applications of her scientific work, Merve was finally introduced to Permaculture and Hua Parakore Principles where she could connect her background to the wisdom of the land. Now she works as a permaculture designer and educator as well as running her Permaculture farm in Rural Raglan.
Merve is passionate about creating a space for people to connect back to themselves as well as to connect back to Nature. Using the tools from spiritual, permaculture and Maori practices, her goal is to inspire people to grow food, adapt sustainable practices, explore nature spirituality and understand nature's building blocks.
Nick Ratcliffe – Treasurer
Tēnā koutou e hoa mā. Nō Ingarani au. Ko Scaffell Pike te maunga o ōku tīpuna. Ko Thames te awa. Ko North Sea te moana. Ka rere āku mihi ki ngā tūtohu whenua o Aotearoa e noho nei au. Ko Nick Ratcliffe tōku ingoa.
Nick first came across Permaculture while WWOOFing in Western Canada in 2005. He had spent the summer on an organic sheep and beef ranch in Northern Saskatchewan, building chicken tractors out of bent willow and herding cattle on horseback for some big fans of Joel Salatin.
That autumn, he bought himself a pair of dungarees and migrated West to a biodynamic farm in Central Alberta where he found himself working alongside a couple of permaculture practitioners and biodiesel cooks, farming Saanen dairy goats, porky pigs, various grains and a market garden CSA scheme. He returned there the following summer, and the summer after that, picking up some rudimentary skills in landscaping and log and strawbale construction along the way, and dreaming that he would never leave. After that third summer, he knew what he wanted to do, and he went home to his local ag college back in England which was offering one of the only undergraduate degrees in sustainable land management in the world at the time.
He moved to Aotearoa in 2013, got into native forest restoration in 2017, started planting his urban food forest in 2018, and finally got round to doing his PDC with RECAP in 2019. He's now back on a learning track as a PassivHaus builder's apprentice, teaching himself to build with natural and reclaimed materials on the weekends and studying Te Reo Māori on Wednesday evenings.
He lives in Heretaunga Hastings, Te Matau-a-Māui, with his wife, two kids, and three chooks, on a fifth of an acre of food forest/cottage gardens and native habitat that he has converted from concrete driveway and lawns.
Rory Fogerty
Rory was born in Limerick, Ireland and after college in Dublin moved to Amsterdam where he worked in IT as a business consultant. He moved to Auckland in 1998 with his family. A staunch supporter of environmental groups, Rory became interested in Permaculture when he and his partner, Jennifer, who had done a PDC, started growing vegetables in their front garden in Mt Eden. Jennifer and Rory bought a lifestyle blockin Waiuku 7 years ago with a view to living more sustainably. They designed their farm, Permakai, using Permaculture principles.
Rory completed his Permaculture Design Certificate in 2017 and after helping establish Te Maara Kai O Wirihana attached to the Manurewa High School was awarded his Permaculture Diploma in 2021. While at the school he developed and taught the NCEA Permaculture module.
He is currently running a modular Permaculture Design Certificate course at Permakai and has another planned to start in mid-July.
Rory's reason for standing for Council is to help build a strong Permaculture movement through
increasing VISIBILITY – grow awareness of all things Permaculture related
introducing STANDARDS – create a consistent framework for the PDC in New Zealand and support new teachers
growing the MEMBERSHIP
Belinda Bidois
Belinda was born to a Maori father and American mother and was raised in between New Zealand and Denver, Colorado. Growing up in contrasting environments gave her insights into different social perspectives and ways of living and this later extended to her interest for travel
and culture.
After high school, she found herself curious about human health and studied Naturopathy at South Pacific College for two years before unexpectedly returning to the states. She spent many years working in the natural food industry and within healthcare clinics in various customer service and administrative roles. This experience gave her the opportunity to observe and gain a better understanding of human behavior and the many different determinants of wellbeing.
After returning to NZ and having her first child, she recognized her values and goals as a parent and a clearer vision for the world she wanted to raise a child in. She decided to study organic production and learn more about soil health and food systems. From here, she discovered Rory and Jennifer's permaculture farm, Permakai, and continued on-hands training in organic market gardening. Although she had heard of permaculture earlier in life, this time around circumstances and opportunity presented itself for her to pursue more knowledge in the field and she has now completed her PDC at Permakai. She has plans to continue studies in Kai Oranga.
Belinda is keen to position herself and her family to a place of self sufficiency and hopes to reconnect her son to the land and pass on the traditional knowledge of her ancestors. She enjoys cooking, hiking, animals, art and comedy.