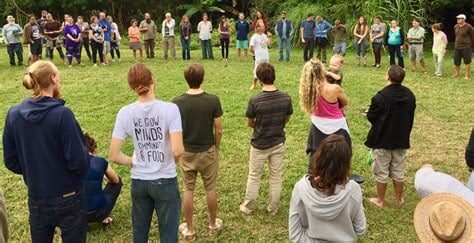 Across Aotearoa/New Zealand there are a variety of ways to learn about Permaculture from introductory courses, Permaculture Design Courses (PDC) and skills based workshops. These are offered throughout the country at permaculture demonstration sites, community gardens, private properties, learning providers and related businesses.
The Permaculture Design Course (PDC) is the most widely recognised and offered type of permaculture education. To complement and enhance (but not replace) a PDC, there are various short courses, workshops, and practical demonstrations covering specific aspects of permaculture.
Watching videos, reading books and sharing ideas with people, even doing an "Introduction to Permaculture" course is a great way to get started and expand your understanding. Many permaculturalists also offer opportunities for informal one-to-one learning ranging from short-term WWOOFing through to internships.
Having a well-developed and reliable permaculture education pathway is critical as it is very easy to miss important elements of permaculture thinking without the comprehensive treatment that comes from doing the basic permaculture qualification – the Permaculture Design Course/Certificate (PDC).
While you can pay a professional designer to produce a plan for you, a personal understanding of permaculture as a whole systems design approach will ensure implementation is successful and you have the tools to build on the initial concept. Just like nature, nothing within a design remains static and all designs evolve over time, so an understanding of the ecological thinking that underpins a design will enable you to recognise and utilise the subtle changes created as the design develops.
Once you become involved in permaculture you will build connections with other people who also have an ongoing relationship to the landscape and community. These connections provide opportunities for lengthy, thoughtful and sensitive observation and interaction that will give rise to a genuine living design process.