Winter Newsletter 2020
Mid-Winter … Sunday was our shortest day and longest night, the flip point to the returning light. In Southland, the sun rises at 8:30 am and sets at 5:05 pm. In Northland, sun rises at 7:34 am and sets at 5:27 pm - that's 9 hours and 51 minutes of the day compared to Southland's 8 hours and 35 minutes. In Christchurch where I am based, it is 8 hours and 58 minutes... 
That is 15 hours of darkness each day. Putting aside maybe 8 hours for sleep (?) this leaves 7 hours of indoor time to fill up in the evening. I like to use my 9 hours of light enjoying nature and working outside. Whilst in winter my days have less external activity than in summer, my evenings are fuller with internal night projects that don't happen in the summer. The focus has shifted from the outward social activities to a more personal, deeper connection with self and the daily needs for the physical space I occupy. The longer hours of darkness give me time to think and research creative projects at a fuller focus and to work on the necessary components of my future plans. It also has given me the time to filter through the experiences of the last few months to get clarity of the insights gained from the global changes we are facing. 
Overall, the shifts I have made have been to step into the permaculture roles I hold with more intent and drive, to find smoother processes, higher presence and clearer ways to connect and unite with my local environment and communities, and to help bridge gaps within a transition society.
I intend this newsletter to show a few of the inspirational perspectives I have appreciated over the last few weeks to months. I am only skimming the surface of what is presently out there … and really keen to hear more about them, send me an email newsletter.pinz@gmail.com ... I have featured conversations and wisdom that I wish to learn from so that my choices and actions will lead to a better way of living in the 21st century.
---
Stories & Features
Permaculture for a World in Transition - By Nandor Tanzcos 
"It is increasingly obvious that humans are at a crisis point. We have created a civilisation that is in fundamental conflict with the natural world. Our great environmental challenges, including climate change, water degradation, soil loss and mass extinction of species are all symptoms of this. The global economy, with its imperative for endless cumulative growth, is reaching the ecological boundaries of our planet. If we want to have a future where humans can thrive, we need to transform. We need to redesign our way of life to become deeply sustainable, creatively resilient and intrinsically regenerative."                             Read in full here
Sustainability, Resilience and Regeneration, Ethical Principles, Design Principles, and Food Forests are the topics of discussion that Nandor addresses in this publication. This article was shared on the PiNZ website in May 2018.    
Aotearoa Town Hall
is a virtual space for exchanging ideas, kōrero and wānanga, artistic expression and all the other aspects which come from a community brought together in a town hall or Marae Ātea.
The conversations started in April this year to address the relevant questions and relevant responses needed to make changes in our changing world. There are now 28 videos with topics ranging from Shaping the Recovery; From Recovery to Revolution; A New Economy; Public Health & Covid-19;  Whenua, Ownership & Housing; Aotearoa in the World; Transport & Urban Design. Follow this link to watch the hours of inspiring discussion.
I picked one to share with you … AOTEAROA TOWN HALL: Kate Raworth  April 26th
Seven Ways to Think Like a 21st Century Economist.
Kate Raworth (sounds like 'Ray-worth') is a renegade economist focused on exploring the economic mindset needed to address the 21st century's social and ecological challenges and is the creator of the Doughnut of social and planetary boundaries.
What on Earth is the Doughnut?… Humanity's 21st-century challenge is to meet the needs of all within the means of the planet. In other words, to ensure that no one falls short on life's essentials (from food and housing to healthcare and political voice) while ensuring that collectively we do not overshoot our pressure on Earth's life-supporting systems, on which we fundamentally depend – such as a stable climate, fertile soils, and a protective ozone layer. The Doughnut of social and planetary boundaries is a playfully serious approach to framing that challenge, and it acts as a compass for human progress this century.   Here is a series of short videos put out in 2017 ...  
1. Change the Goal: From GDP to the Doughnut;    2. Tell a New Story: From the neoliberal narrative to a story fit for our times;   3. Nurture Human Nature: From rational economic man to social adaptable humans;   4. Get Savvy with Systems: From mechanical equilibrium to dynamic complexity;   5. Design to Distribute: From 'growth will even it up again' to distributive by design;    6. Create to Regenerate: From 'growth will clean it up again' to regenerative by design;  7. Be Agnostic about Growth: From growth addicted to growth agnostic;  And now…It's Time for Planetary Economics: Why it's time to think big about the economy.
The 52 Climate Actions partnership formed in 2015 after the International Permaculture Convergence declaration to the Paris Climate Conference. This project was created so that it would: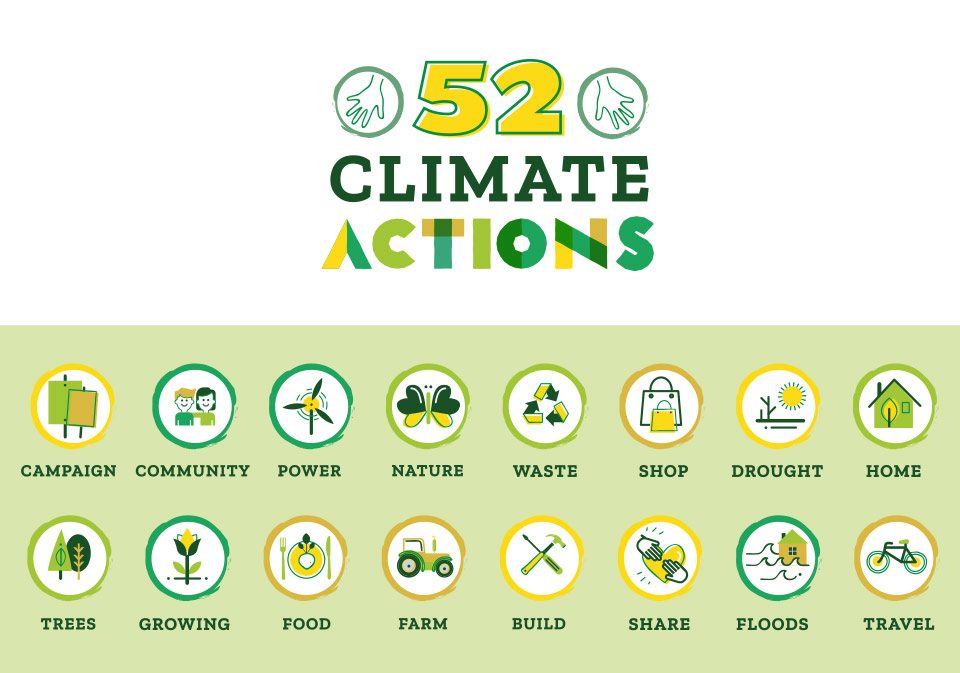 help people understand their personal power in tackling climate change

show people the best responses to climate change

promote these solutions to a wide audience

inspire people to action to help them reduce their carbon footprint, adapt to climate change, and embrace a low carbon culture

be rooted in permaculture, a design system that aims to create sustainable human habitats by following nature's patterns
The 16 themes are represented above and the 52 actions fall into three categories: those to reduce your carbon footprint (mitigation); those to help you cope with the effects of climate change (adaptation); those that aim to change your mindset (thinking differently) ... Each action comes with a detailed overview of the topic, a scalable action list from simple to global, how it meets the permaculture ethics, where it fits into the Sustainable Development Goals, plus what resources are available.
Check out the fifty-two ways to make positive changes on the climate www.52climateactions.com/actions-list
Bioregional Networking 
A web of connections are the invisible forces that enable the functioning of our daily lives, the people and places we interact with become our network of support systems to achieve success. It is an unseen map of locality and frequency. 
The dewdrops in this picture represent the places we visit, the web strands are the roads that lead us there. The nodes and connections that link our communities. I like this visual reminder, as life's regular movements can fade into automatic responses. It is nice to truly appreciate the freedom and possibilities that are available to us all. Lockdown definitely gave us an understanding of what is lost when the options are taken away. When drops can dry up or the links between them are broken. It also gave clarity to what is really necessary and what is a routine or habitual response and helped us identify what is important to us and what we did not miss.
Coming out of lockdown and the opening up of the restrictions is a wonderful time to ask ourselves questions … Where does our food come from, how far do I travel to work, where do I spend social time, where are the places I visit most often? What is available locally to support my needs, and how do I support others? Can I find what I am needing locally? Is it necessary in my life? What does it take to make all of the actions in my life to happen?  
Our borders are closed, now the bigger networks and global support system are adapting and changing... How does this affect New Zealand and how does it affect us? 
By knowing what is involved to keep our daily lives flowing smoothly, we have the ability to be resilient in times of restriction and change. Supporting local systems of goods and services will create a stronger economy that supports us and allows us to support others. Relationships strengthen our neighbourhoods and our invisible web of networks so they stay within our lives, our communities to keep supporting and providing.
"Regenerative practices require a systems orientation, a bioregional context, that has an emphasis on local place-based solutions."- The Path to a Regenerative FutureElizabeth Caniglia
PiNZ is currently working on developing systems and a platform (on the website) for bioregions to showcase permaculture projects, places, and people from around Aotearoa; to support individuals who are searching to connect with a local permaculture network, and help communities to make a difference at the local level to the shaping and development of New Zealand.
This will be a great opportunity to map out the presence of permaculture throughout NZ, to show the regional pockets of activity and to give inspirational examples of alternative methods of living. We hope it can broaden the ability to share advice and knowledge with others who wish to make changes that are more aligned with the care of our environment, the care of the people and the respect for the future and the finite resources available on Earth.
If you are keen to be on board and support this process please send an email to Lillee newsletter.pinz@gmail.com
"Bioregionalism developed out of a grass-roots interest in how to bring about social change that would lead people to protect and restore the environment on a local level. Any definition of the concept 'bioregion' should always remain tentative to allow for flexibility and adaptability to the unique, local characteristics of any given region." - Bioregionalism: Living with a Sense of Place at the Appropriate Scale for Self-reliance Daniel Christian Wahl
---
Become a financial member of PiNZ and support the development of Permaculture in New Zealand
 Find out more about Permaculture in New Zealand here
---
PiNZ Updates
Chair Report - June 2020
Kia ora e te whānau! In this time of disturbance, I imagine you're all creatively thinking about and designing for social and ecological renewal in your personal lives and communities. The best wishes of the PINZ Council are with the Permaculture community in Aotearoa as you all respond to COVID- 19 as best as you can.
As Council, one of our primary focus points has been developing an accessible online process for our AGM this year, which has been impacted by the pandemic (see below). This has encouraged some creative reimagining, and our hope is that the systems we are creating this year will offer increased accessibility for Members in years to come.
We have also enjoyed supporting Tū Kainga Tūwharetoa in their post-COVID social development and economic recovery, by facilitating a conversation between Tū Kainga and Māori rangatira and kuia who integrate Permaculture with their indigenous and regenerative practice. Gratitude to Poihaere Morris (Ngāti Awa, permaculture kuia), Lisa Isherwood (Tūwharetoa, Awhi Farm), Donna Takitimu (Coordinator – Kai Oranga, TWWOA), Thalea Tane (Te Roroa, Ngāti Whātua, Ngāpuhi, Global Ecovillage Network), and to Jo Pearsall; Bryan Innes. Tēnei te mihi nui ki a koutou katoa.
Council has also been working on: making it easier to find Permaculture contacts in the bioregions; cleaning up outdated Council processes and systems, and designing a new economic strategy for PINZ that focuses on generating funding to distribute to Permaculture initiatives around Aotearoa.
Till next time, ngā manaakitanga
Dave Hursthouse
Chairperson – Permaculture in New Zealand
AGM
The Council has been focused on developing a transparent and democratic online system of participation for the 2020 PINZ AGM (Annual General Meeting). Our Annual Permaculture Hui was scheduled to take place at Te Ao Hou Marae in Whanganui in April 2020, and due to the pandemic, the event has been postponed until a similar time in 2021. This means we cannot do our AGM in person at the Hui, as we have in the past.
We are trying to create a 2020 AGM that is adapted to the current context of our time while retaining the authenticity that our community experiences when we ordinarily gather in person to make these decisions. We are doing what we would normally do, but online. We recognise that this will present obstacles for some people, and we will do our best to support the participation of all Members in discussion and decision making.
The 2020 PINZ AGM will be held in August 2020,
open from Monday 17th until Sunday 30th
We have been working on an online platform that integrates discussion and decision making for PINZ Members. We are using a combination of Zoom (an online video discussion platform) and Loomio - an NZ-based decision-making platform that has been highly successful in recent years, and is well known for its security and transparency. These platforms are simple and easy to use, and your participation could be as quick as 5 minutes.
There will be a discussion (optional) and voting on the following Proposals and Election:
1) Proposal: Add minimum Councillor term of 2-years to the PINZ Constitution
2) Proposal: Amend the 'Decision Making' section of the PINZ Constitution
3) Proposal: Change the name of PINZ to 'Permaculture Aotearoa'
4) Proposal: Approve the 2019/2020 Treasurer's Report
5) Proposal: Approve the 2020/2021 Annual Plan/Living Strategy
6) Election: Elect seven Councillors to the PINZ Council
We will send more information and explanation videos to all PINZ Members in the leadup to the 2020 PINZ AGM, including:
Intention, objectives and outcomes for each Proposal

A bio video from each Councillor nominee

A 'How to participate in this AGM' guide

Treasurer Report

Chair Report

Secretary Report

Permaculture Educators Guild Report
We will be in touch with PINZ Members by this time next month with all the information you will need to participate in this AGM. Our hope is that these systems may support increased Member participation in the future, as all those who cannot make it to Hui in person will still be able to participate from afar.
If you would like to become a PINZ Member and participate in this AGM, please go here: Become a Member
Message from the Treasurer
PiNZ has decided to run a trial on reducing plastic use within the organisation. Over the next three months, we are requesting that you use Account to Account transactions when making a payment through the PiNZ donations and PiNZ membership pages. The background for this is that every plastic transaction costs PiNZ money. As a council to our member-based organisation, we are committed to reducing non-essential costs. If you have any questions or comments; or If credit card transactions are the only means of payment, these still can be processed through contacting pinztreasurer@gmail.com. Memberships on recurring credit cards will be maintained.
---
Upcoming Courses & Events in NZ
Introduction to Permaculture - 10-13  July 2020 - HAWKES BAY
Four-day intro to find out how to grow more food for less effort, develop productive and resilient homes, gardens and communities, and find local solutions to our global social and environmental problems.
Permaculture Design Certificate course from July 2020 to Feb 2021 - MATAKANA
Join experienced teachers, Trish Allen and Guenther Andraschko as well as specialist guest tutors, for the internationally recognised certified modular PDC course which takes place over 8 months with 13 full days of course time – 10 Saturdays + 3 Sundays
Composting and Plant Propagation workshop - Sunday 19 July 2020 - MATAKANA
This one-day Composting and Plant Propagation workshop to gain hands-on skills related to permaculture practices.
Built Environment - 8-9 August 2020 - CANTERBURY
This weekend is about the urban environment, appropriate technology and energy solutions, eco-buildings, natural building design & materials & design, plus ideas to retrofit your properties.
Introduction to Permaculture -  August 2020 - CANTERBURY
A one day course covering the basic principles and ethics of permaculture through an informative card game of 36 examples of permaculture concepts & projects, what is happening in the local region and where you can learn more about permaculture.
Propagation workshop - 28  August 2020 - HAWKES BAY
Our full-day hands-on workshop takes place in our certified organic nursery … under the guidance of an expert, to ensure you come away with great plant material to grow on at home, and all your questions answered
Design your own Food Forest - 29-30 August 2020 - HAWKES BAY
Whether you are urban or rural you can learn to 'think like a forest' and have an abundant multi-storey garden which can provide you with not only food but fuel, medicine, fibre, dye plants and more, and all for a lot less work than a classic veggie garden. 
Sustainable Living Course - 13 September - 20 November 2020 - GOLDEN BAY
The 10-week 'Sustainable Living Course' offers a compelling menu of hands-on, experiential learning modules covering seven core areas plus your personal research project
Permaculture Design Certificate - 19 September 2020 - August 2021 - CANTERBURY
This is a 10-month modular course located on varying properties throughout Canterbury to show permaculture systems and living design in action, along with theory-based learning that will cover the diverse range of topics that permaculture holds.
Permaculture Design Certificate course 19 September - 13 October 2020 - COROMANDEL
A 13-day intensive residential course at the beautiful Te Moata Retreat Centre. This Course fulfils the standard requirements of the international permaculture curriculum
Permaculture Property Tours - 4 October 2020 - MATAKANA
We will visit four outstanding permaculture properties in the Matakana area, starting in the village. The tour includes a light lunch at one of the properties.
Permaculture Design Certificate & Yoga Retreat - 5-20 October 2020 - GOLDEN BAY
This 15-day course is taught in an integrated hands-on way, culminating in a comprehensive land-use design project. Yoga, deep relaxation and meditation sessions will be woven into the daily schedule bringing you a unique course combining inner ecology (yoga) with the outer ecology (Permaculture)
---
For more happening later this year and next or wish to advertise your own visit the PiNZ webpage here.
---
New Zealand National Permaculture Hui 2021
Whanganui is still on board to be the location for the next annual hui, the dates are pencilled in for 23-27 of April 2021. Stay connected through the PiNZ website from July to find out more from the local team who are hosting alongside our Permaculture in New Zealand Organisation to bring a lively jam-packed hui full of workshops, talks, presentation and tours from some leading voices in our community, local wisdom keepers and all-round permaculture enthusiasts.
Currently, the information on the website is of those on board to speak at 2020 hui, we hope to still have the majority of the same names and topics on the program. A bonus from having another year to plan this event has allowed for more additions and deeper conversations to be considered for the program and to open up unexpected pathways for this to happen.
If you would like to be a location for a future National Hui contact Lillee Star on the below email or if you are from Whanganui and wish to be more involved with the preparations of the Hui, email Fiona Moorhouse - permaculturehuiaotearoa@gmail.com
PiNZ Hui: 2019 Riverton - top 2 rows; 2018 Waihi Beach - middle row; 2015 Christchurch - bottom 2 rows
Each Hui is very unique from another due to the local region and teams influence on how permaculture looks and works for them, and also based on the chosen theme for the main topic point of conversion.
---
Worldwide
Australasian Permaculture Convergence 2021 - Celebrating Nature's Abundance, 
Monday 12 April to Thursday 15 April 2021 at Camp Kindilan, Redland Bay, Queensland.
The 2020 Australasian Permaculture Convergence has been postponed to April 2021 due to the COVID19  pandemic.  We plan to keep the program as close as possible to the one included here and will make changes as necessary through the year ahead.
It is a biennial gathering of permaculture people from around the country and the Asia Pacific region. All people with an interest in permaculture and regenerative development are invited to join us for 4 days of workshops, hands-on activities, and discussions on how we can both celebrate and support nature's abundance.
The Quandamooka First Nations people are the traditional custodians of North Stradbroke Island (Minjerribah) and the Southern Moreton Bay region including  Redland Bay.  We pay respect to their Elders past, present and emerging. For more information on their activities visit their website Quandamooka   Yoolooburrabee Aboriginal Corporation.
The Convergence is being organised by Northey Street City Farm on behalf of Permaculture Australia.
The program will include talks and workshops covering topics relevant to the three ethics of Permaculture, which are Earth Care, People Care and Fair Share. We feel it is important to explore the bigger picture of what true sustainability entails. Earth Care is obviously essential, however without People Care and nurturing healthy, sustainable relating, the task of coming together and working as a community can be greatly hindered. Finally, if attention and conscious intention aren't given to the economic sustainability of communities, and the distribution of resources isn't managed equitably, then communities may struggle to be truly sustainable in the long term. . . More information can be found here
---
International Permaculture Conference 14
In Argentina planned from 28th November till December 4th in 2020 is postponed to November 2021.
Dear friends of the Permaculture World, Children and Youth Groups, Indigenous- and Rural- and all Communities Everywhere!
The IPC-14 Argentina will be postponed to November-December 2021 due to the consequences of the COVID-19 Global Pandemic. This new date for 2021 is a first step, a guide for the coming months during which we will continue to observe the development of the pandemic to be able to make the best decisions. 
Our wish is that the 14th IPC sees representatives attending from many different places in the world and for that to happen we need to regain our health, the possibility to travel and our economy, among other factors. And - looking further into the future, we will use the time to explore additional online participation opportunities in many different ways. We acknowledge the importance of Permaculture and the need to share this way of life with all World inhabitants. What better opportunity to do that than at an international gathering such as this one?
Very soon there will be a cycle of online activities organized by a team of permaculture members and collaborators of the 14IPC, in order to weave and strengthen the network, maximizing this time of change that we are in.
Firstly the facilitators of the 14IPC courses will offer some talks, presenting permaculture as a solution to what is happening in the world now. At the same time, there will be videos shown of different inspiring projects in the world that are facing the crisis in an incredible way.
All updates regarding these events will continue to be shared on the official webpage 14ipc-argentina2020.org and on social media.
Sending you light, blessings and warm regards from the place each one of us is located now.
❖ 14th IPC Argentina Organizing Committee
❖ International Permaculture Convergence Council
❖ Friends of IPC - To read more visit their website
---
DEADLINE FOR THE NEXT NEWSLETTER IS September 10th - EMAIL newsletter.pinz@gmail.com
Past newsletters can be seen here
---
"Social and ecological renewal through transforming our economies ... Sour Dough is regenerative by design"        Kate Raworth
---
Permaculture in New Zealand (Inc)




c/- PO Box 173




Matakana

, 

0948




New Zealand